Teaching Weekend with Tulku Sherdor and Lama Shenpen
-
Hermitage of the Awakened Heart, North Wales & online
Everyone is eligible for this event.
This event is suggested to everyone.
This will be an exciting opportunity to hear Tulku Sherdor teaching on Mandala Principle as well as Lama Shenpen and Tulku Sherdor in discussion together. They've been friends and Dharma colleagues for a number of years, Tulku Sherdor has taught at The Hermitage in the past. In brief a wonderful chance to learn from two dedicated practitioners and teachers who've given their lives work to the Dharma.
Tulku Sherdor Biography
Image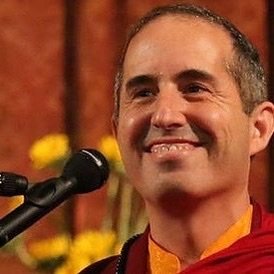 On Saturday Tulku Sherdor will teach from the chapter on Mandala principle in Mipham's treatise on Guhyagarbha tantra, which explains in careful detail its essential meaning, the three and seven types of Mandalas, and the pervasive importance of this principle for the study and practice of tantra. 
Tulku will also explain, for example, how this principle applies in the practice of taking highest refuge. And on Sunday Lama Shenpen and Tulku Sherdor will be in conversation discussing Guru Principle, the teacher student relationship.
Tulku Sherdor is the Executive Director of Blazing Wisdom Institute.  Born in Montreal, Canada in 1961, he began studying Buddhist Insight meditation from a very young age, and met his principal teacher, Tulku Urgyen Rinpoche, in Nepal in 1981.  He was fortunate to study with other pre-eminent masters of the 20th century, including His Holiness Dilgo Khyentse Rinpoche, Khetsun Zangpo Rinpoche, Dung Say Trinley Norbu Rinpoche, Chokyi Nyima Rinpoche, Kalu Rinpoche, and many others.
He completed a 3-year lama retreat in the Karma and Shangpa Kagyu schools of Tibetan Buddhism, and a year-long solitary retreat in the Chogling Tersar practice lineage held by Tulku Urgyen.  Over the past 20 years he has traveled far and wide, teaching and working with and translating for a great number of distinguished Nyingma and Kagyu meditation masters, such as helping Trangu Rinpoche establish the monastic retreat program at Gampo Abbey in Cape Breton, Nova Scotia in the early 1990s; helping Kenpo Sonam Topgyal Rinpoche re-establish the vajrayana Buddhist tradition for the Chinese community in Thailand in the mid-1990s; and working closely with his precious teacher, His Holiness Orgyen Kusum Lingpa, to advance many philanthropic projects in Tibet dedicated to world peace. Tulku Sherdor is renowned as a scholar and interpreter of Tibetan Buddhist teachings into English, and known for his quiet yet humorous and insightful manner.
To help you plan here's a sample timetable
Morning Prayers and meditation - 7 am - 8 am
Shakyamuni Sadhana 9.00 am - 10.00 am
Meditation session 11.00 am - 12.30 pm
Teaching session  - 3:00 pm - 4.30 pm
Meditation Session - 5:00 pm - 5.30 pm
Evening Prayers and Meditation - 7.30 pm - 8.30 pm
The days will open and close with Morning and Evening Practice held respectively at 7am each day and then Evening Practice at 7.30pm on Saturday and 5:00pm Sunday.
Sign up now! Further details to follow.